LADYGUNN speaks with Barns Courtney in anticipation of his debut album, which drops on 9.29!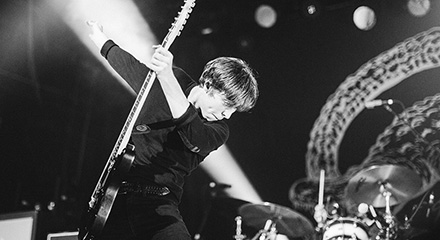 We catch up with Catfish and The Bottlemen during their second US tour and get the scoop on selling out venues across the nation, why they love their fans and what it means to be an "indie band."
Every year there's at least one "snowpocalypse." In Atlanta this tragedy consists of is a couple millimeters of snow and ice that cause panic and a city shut down. This year's snowpocalypse occurred when Mainland (an opener for emo Canadian Pop Punk Group Mariana's Trench) were passing through and I was scheduled to hang […]
LADYGUNN Fashion Editorial shot by R. Perry Flowers.
Once the release of The Driver Era's "Preacher Man" occurred in March, fans could rest at ease that good music would continue to be made — some of new tunes are what you could say is the best we've heard from these two since, well, birth. Their previous band R5, made up of mostly Lynch siblings, was no stranger to huge success as a pop band that toured the world, but there was simply a moment where they knew it was time to move on…
LADYGUNN premieres the latest track OBENEWA + MACHINEDRUM, "Heart Game", a topsy-turvy anthem that elicits the strength and pain of love.
Actress Alexandra Park juxtaposes badassery and naivety in her role on The Royals, making her character both loveable and despicable. Photos by Ben Duggan + Story by Koko Ntuen for LADYGUNN No. 16!
LADYGUNN Fashion Editorial starring Starr Evans featuring the awkwardness growing up and not being an adult or a child. Shot by Ray Kay + styling by Emily Evans.