These clothes are better than going to the beach!Check out the Summer/PreFall collection from designer Koko Celeste. Fresh, bright, hip and fun. Exactly why we have the summer season, to wear clothes like this! __________ Photographer: Diego Hugo Styled by: Allison Conway + Koko Ntuen Models: Matt, Wolfe, Christine Hair+Makeup: Gina Longhitano
LADYGUNN founder, Koko Ntuen pens a note inspired by Rookie founder Tavi Gevinson's last letter to her audience.
Actress Alexandra Park juxtaposes badassery and naivety in her role on The Royals, making her character both loveable and despicable. Photos by Ben Duggan + Story by Koko Ntuen for LADYGUNN No. 16!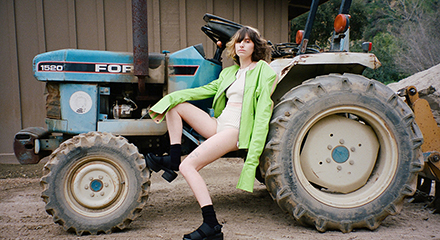 LADYGUNN sits with Ian Sweet and to talk about making music, mental health and trusting herself through the noise.
LADYGUNN speaks with Jess Glynne about her new album, her career path, and her inspirations.   
Tschabalala Self talks to LADYGUNN about her path to becoming one of America's most renowned modern artist, why black women are her muse and what she hopes to achieve with work.
LADYGUNN gets a tour of the HOUSE OF PHIL archives and hangs out with Styled By Phil, the mastermind of an underground fashion universe.
LADYGUNN NO.16 Fashion Editorial starring Liz Harlan + Styled By Phil. Photos by Tonje Thilesen.