Lollapalooza 2016: Jazz Cartier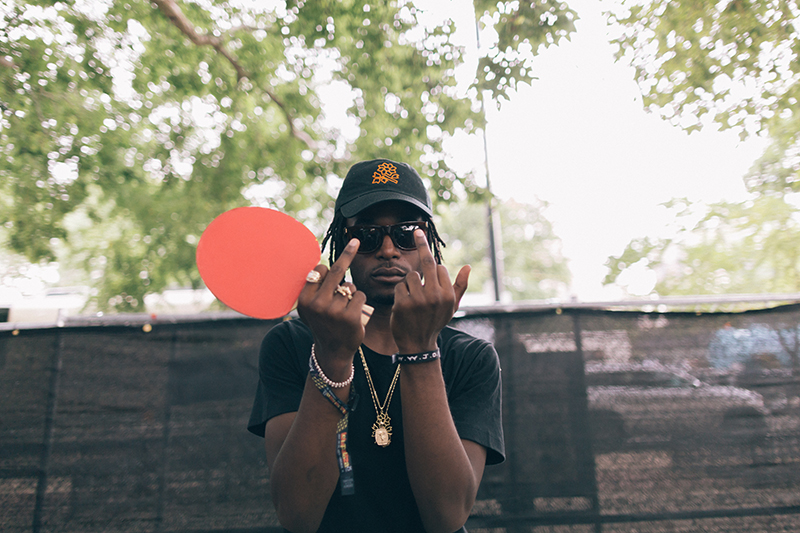 Lollapalooza celebrated its 25th anniversary by expanding to a phenomenal four-day festival, headlined this time around by the likes of Red Hot Chili Peppers, J.Cole, and Lana Del Rey. Curious to learn more about 25 of our favorite performers, LADYGUNN was on hand at Chicago's historic Grant Park providing a predominately blank canvas for each individual to paint a captivating picture of their unique story. Here's our chat with a jubilant Jazz Cartier, who opened up about his back and forth with tennis aspirations, Lil Wayne recently showing him some love, and the purpose a positive outlook serves on his quest to leave behind a lasting legacy.
Would you like to introduce yourself to the readers?
What's up!? My name's Jazz Cartier, Jacuzzi LaFleur. All the way here from fucking Toronto, Canada – out here in Chicago… Lollapalooza. What's good?
What do you love about music?
I mean… I love creating. I love performing. I love the fact that a lot of fans hit me up saying that my lyrics touched them, and have gotten them through some dark times. Also fans that turn up to my shit too, like have a good time. I'm just all about good vibes and positivity.
What's your earliest memory of music?
I remember my first concert was Janet Jackson and Usher. That was like when I was six years old.
At some big arena, I imagine?
That was at like the Rogers Centre where the Blue Jays play—or no, the ACC, where the Raptors play. That was in 2000 or 1999.
Did your parents take you?
My mom did, yeah.
Well bless her heart.
Oh my god, she's a G for that. That got me through a lot of shit. Whenever I think of big, live music moments, that's the first time I saw superstars in the flesh.
Did you ever wanna be anything other than a musician?
I wanted to play tennis. I played tennis in school for a bit, but then…
Just kind of fell through?
I wasn't dedicated to it [as much] as I was to music.
But I imagine you still play in your leisure time?
I try to. That's why whenever I see a ping-pong paddle or a tennis racket, I'm fucking… I'm in for the kill.
Gotta stay fresh!
Yeah, for sure.
Do you have any hidden talents? I suppose tennis, but other than tennis though?
Tennis. I studied psychology in high school… and law. I could probably get you out of a fucking traffic ticket in a second.
Have you ever had to yourself?
Nah, bro. Squeaky clean. The police can't catch me, baby! You feel me? I'm out in these streets, but they can't see me, you feel me? I'm like Casper out here!
What's the worst job you've ever had?
I worked in Hooters for one day.
Doing what exactly?
They had me in the back, cooking chicken and shit. I was cooking chicken and shit, and I was like, 'I'm not down to cook no fucking chicken! I'm trying to see the [ladies]!' I literally walked out of that job. I was there for two hours.
What's something you wish you knew when you were younger?
I wish I had taken singing seriously. I had Chapel at school, but I thought Chapel was for the losers. But now, I wish I had it, 'cause I wish I could sing more. So that's it.
How would you describe your approach to life?
With a smile. I rarely get mad. Life's not that serious, bro. For me to make it out of Toronto and be here, at Lollapalooza, with you, I have nothing to complain about.
What's your idea of a perfect day?
In the studio—hit the stage… go to the studio… party… be with my n****s… maybe play some Fifa… win some money… make some money… spend some money… make sure my mom is straight – check on her, call her… if I can, fly to her and see her. I'm not like a vacation kind of guy. I like being in the city. That's me.
Can you recall the last time you cried?
[Pauses to think]
I guess that's a good thing if you have to think a while…
Yeah, it's been a grip. [Pauses again to think] Not to be like a fucking—on any macho shit, [but] I really can't recall… I remember I cried once at a concert.
Who was it?
I cried once at one of my shows. 'Cause the response was just so crazy and everyone knew the words, but I forgot when it was. That was a while back. That was the one time that I've gotten emotional onstage, 'cause it was weird seeing.
What's been your biggest pinch-me moment?
[Pauses to think] When people ask me these kinds of questions, like what's the wildest tour story, pinch-me moment… there's been so many that I tend to forget a lot.
Probably most recently, I would imagine the Wayne shout-out?
Ohhh!!! I forgot about that! That's definitely top three. No, that's number one. Shout out to Wayne.
But you would have been happy with doing that track even if he wouldn't have acknowledged it though, right?
Oh yeah, for sure. I mean… I didn't expect him to—I knew eventually it would probably cross his radar, but I didn't think he'd go out of his way to tweet it… to like 27 million people.
Have you ever been star-struck?
[Pauses to think] Never.
Who's an artist you think more people should be familiar with?
Cousin Stizz. Larry June. Shout out to those n****s right there. Ye Ali. Jevon Doe. There's a lot of people, man. Donmonique. Bia. SuperDuperKyle. Everybody. I fucks with everybody.
If your house was on fire, what's one thing you'd grab?
My safe, n***a. I'm getting my safe, and I'm getting my money, my jewels, and I can buy the rest. Put everything in a safe.
What are you most afraid of?
Dying.
Is it something you think about often?
Only reason I'm afraid of dying is… I'm afraid of dying and not leaving behind a legacy. I don't wanna be that guy. I don't wanna be put in a Len Bias situation. No disrespect, you know what I'm saying? Rest in peace to the dead. But I don't wanna go when it's too soon.
What's something people would be surprised to know about you?
I'm not a dark guy.
They think you are?
They think I'm dark 'cause my music's dark. But I'm a very happy guy at all times.
You seem like it, absolutely! Any final thoughts for the readers?
I love you guys – new fans, old fans, unsure fans, uncertain fans. My name's Jazz Cartier, prince of Toronto. Out here in Chicago. Sweaty as fuck. I forgot to wear socks today, and I wore Air Forces onstage and now they're fucking dirty, like a fucking waste yute. But it's all good! Good spirits.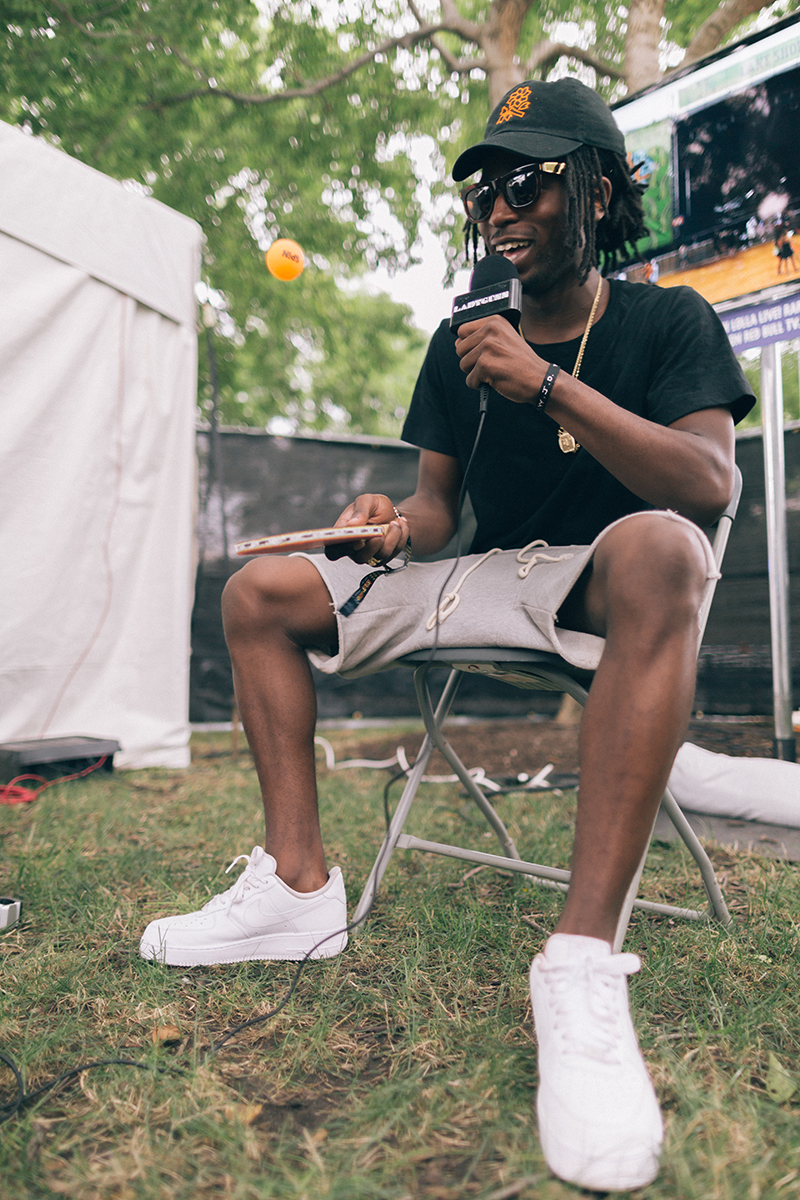 story / Damon Campbell
photos /  Aaron Klisman