TRACK PREMIERE: ANGELICA BESS – "THE LEAP" ++ INTERVIEW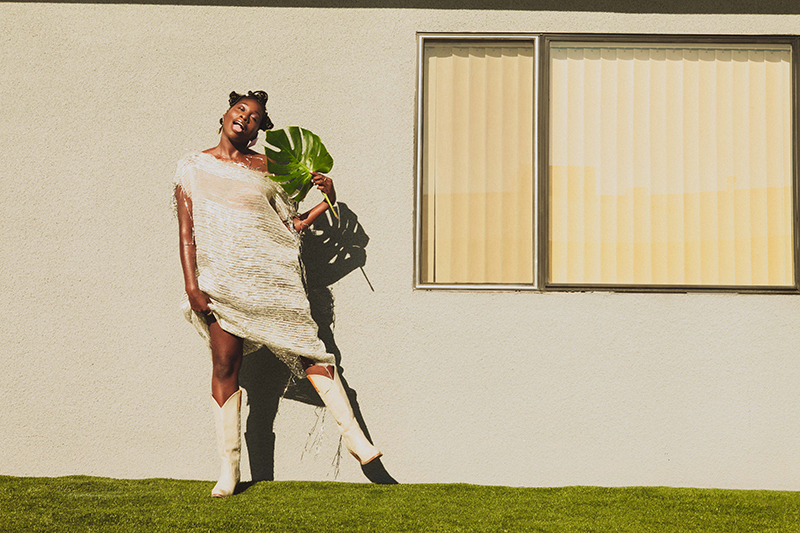 The latest fete from Brooklyn based singer Angelica Bess comes in the form of a warm earworm with her longtime collaborator Machinedrum. "The Leap" is a perfect soliloquy in Angelica's neo-soul vocals and Machinedrum's signature blend of neon synths, aggregated guitar work, and broken jungle rhythms. The song itself is a perfect mood pick me up for any day of the week.
We chat with Angelica about her path in the music industry, being a rising star, and how she unwinds from it all.
When did you realize you wanted to be a creator? 
I knew I wanted to be a creator when I was very young,  I was always getting in trouble for spacing out in school and not following directions. My mind wanders and drifts off into a cluster of ideas of how i want the world to be like. Also When I first saw Janet Jackson perform Control on TV, I must've been about 4 years old. I told my father I wanted to be just like her. 
What was your first ever collaboration?
My first collaboration was and still is with Body Language. We met when we were in college and we all decided to move to Brooklyn together to make music and grown within a community of other experimental musicians.

How did you start working with your frequent collaborator Chrome Sparks?

We met at a luncheon when he was having these monthly luncheons with local artists. We totally hit it off and became best friends instantly. I would come over to his space and it was full of percussive instruments and synths all ready to go.

How would you describe what you do when people ask?

Singer/Songweirdo;) I also help run a prop house/ fabrication company, ACME Brooklyn

Tell us about your path in the music industry? 

When Body Language first started we were jammed packed with shows and tours supporting some of my favorite artists Sia, Janelle Monet, Vacationer, Matthew Dear, etc. After a few years of that, we started to branch out and see where the project would take us writing songs with other musicians. That opportunity has definitely opened many doors for me allowing me to collaborate with other producers and widening my songwriting abilities with other types of music. The music industry is like a young aloof boyfriend. It's thrilling and exciting at first but then you realize there's a learning curve. Disappointment can be this underlying factor but however, there's so much room for growth.

What are you working on now? 

Constantly working on my glow by eating healthy, exercising, and reading. I find those are the tools to becoming your strongest self. 

I'm currently in the process working on a solo EP with a few of favorite producers, mentor, and bestie Machine Drum (Travis Stewart) and wrapping up the newest Body Language record.

What do you love most about being you? 

It would have to be my humor. I can't help but bring laughter to the table. Life is so awkward and uncomfortable. It would be a burden if I didn't have jokes and comments to make to lighten up the weirdness. 

I love that there is no one else like me and also my obsession with nature. 

What would the

10-year-old

 you say to yourself now? 

"You should've kept your Barbie collection. You would have made bank or at least have an epic Barbie collection in your apartment"

How do you want to use your voice to impact the world?

I want to use my voice to send a message to females to never be afraid about what you want to sing about. Your voice is your diary so be as loud and truthful as possible. Be honest because that's all the world wants. Truth.

What do you love most about the world and what are you most sad about the world right now?

I'm most sad obviously about our political climate and climate change. It saddens me how social media has become this concrete source of identity. I'm sad about the dependency of phones. What I love most about the world is how aware we are becoming day by day about our social and climate issues. I love seeing women like me expressing the beauty they've always but never had the chance the present. 

What would you be happy knowing you used your voice to do when you leave this earth? 

I'm happy knowing that I've brought some light to this earth with my voice. I love when people tell me they like to listen to 'Sail to The Sun' when they're driving, running, or just really feeling themselves. If you can leave this earth with positive energy, then you've lived your life fully. You've left a mark on the world to make it better for the next individual.

I turn off my phone. Meditation, meditation, meditation. You HAVE to turn your brain off sometimes. I love to take baths and soak in all the essential oils. I love yoga but running is my absolute favorite. Every step I take feels like I'm stepping on all the annoying thoughts and taking steps closer to the good ones. Having soft skin and a clear mind are the building blocks of relieving the tension I think

What is your dream life?

My dream life would be to live upstate in the Catskills with a ton of property to build an artist residency for women. Living with nature and creativity. Having the freedom to make anything you want and have the tools and environment to do so. I dream of women like me in a huge house, building, cooking, writing, singing, dancing, making things grow. Also, mad cats, like everywhere.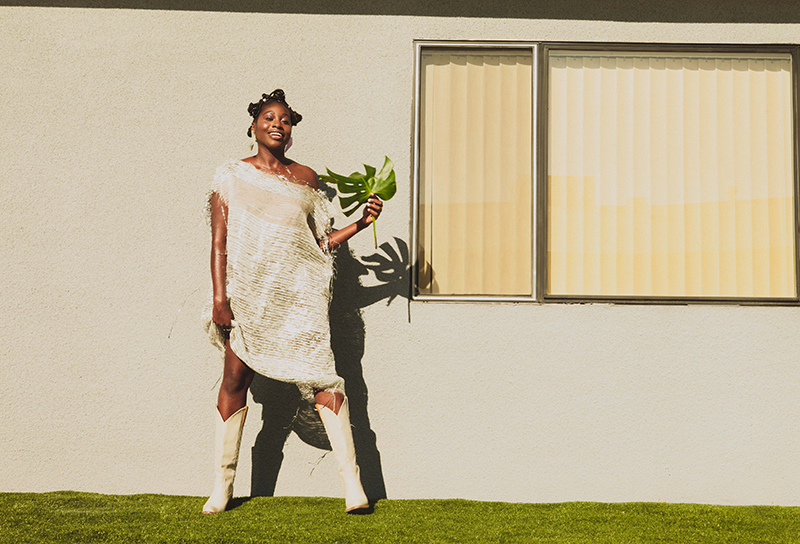 AYA BY DK dress, CLOSER BY WWAKE earrings, PSKAUFMAN boots
DAMA coat, GASOLINE GLAMOUR headpiece
ZIZTAR sweater, CLOSER BY WWAKE earrings, PSKAUFMAN boots
KRIE dress, CLOSER BY WWAKE earrings and necklace, PSKAUFMAN boots
OTT DUBAI dress, CLOSER BY WWAKE earrings, WORSHIP LA vintage hat
OTT DUBAI dress, CLOSER BY WWAKE earrings
SNOW XUE GAO top and skirt, MELODY EHSANI hoop earrings, PSKAUFMAN boots
Photos / The Maxwells, Philip & 
Ruby

 June with ACME Artists
Styling  / Alexis Bergens for Wilhelmina Artists
Makeup / Sean Harris for The Only.Agency using M.A.C. Cosmetics
Hair  /  Kimmi Mcallister

CONNECT WITH ANGELICA: